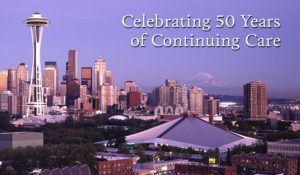 "Bayview has always been home to personal self-discovery inside an intimate village of good friends—with a million-dollar view to boot.Offering more amenities, greater comfort, and new urban living options for residents. Everything from upscale dining with 360° views to a health services expansion, and an outdoor dog park are key additions that will make Bayview one of the most desirable 62+ communities in Seattle."
"We proudly serve Western Washington with 9 retirement and assisted living communities from Lakewood to Marysville."
"Located in Edmonds, Cedar Creek is not just a place to live, it is home.  Filled with professional, caring staff and a warm, inviting atmosphere.  You'll find that at Cedar Creek, we truly are ladies and gentlemen, serving ladies and gentlemen."

"For over 25 years, our local, family-owned and operated company has specialized in premier retirement communities throughout the Puget Sound region."
Since 1993, we have helped over 200,000 older adults and their families locate assisted living and care options in the Northwest.
Find out more about this exciting retirement option.  "CoVision Consulting offers education services on the benefits of cohousing, working with individuals and groups interested in forming cohousing communities. Professional consulting services in areas such as Education, Marketing and Membership, Community Building, Site Acquisition, and Project Management"

"People of all faiths come here to live a rich and full life, driven by a common bond of serving others." Independent Living, Assisted Living, Skilled Nursing, Memory Care in North Seattle and Silverdale.
"At Edmonds Landing, residents enjoy an active, engaging lifestyle that promotes wellness and independence."

"Whatever your passion, Era Living offers eight unique retirement communities designed to bring you closer to everything you love."
Experience is a fundamental benefit when choosing a Frontier community.  With expertise in retirement living, assisted living and memory care to meet your needs and dedicated to all those who call one of our communities 'home'.
"Garden Court has been recognized as best of senior living in the greater Seattle area and nationally. Itís not just a place to live, but a community. "
"The Hearthstone is a Continuing Care Retirement Community dedicated to adults age 62 plus, promoting independence, optimum health, security, purpose and belonging in life, through Christian love and values in a caring environment."
"Horizon House is a Life Plan Community (also known as a Continuing Care Retirement Community, CCRC) providing a spectrum of services and care for residents who plan to live life to the fullest, from complete independence to individualized care in Supported Living.  Assistance can range from help with daily living to 24-hour-a-day nurse staffing and dementia care." Located downtown Seattle.
Kensington Gardens Estate Senior Living, one of the region's most luxurious and individually oriented yet affordable skilled assisted care homes in Tacoma. Offering 24-hour fully licensed dedicated care.

"This is how you envision retirement: carefree living with appealing amenities, engaging activities and a break from routine home main-penance."
"Whether you are looking for an independent lifestyle with help available as needed, or need regular assistance with the activities of daily living, Madison House can provide the finest environment for senior assisted living." Located in Kirkland adjacent to Evergreen Hospital.
"Mirabella Seattle offers you the opportunity to experience a vibrant, urban lifestyle along with the security of knowing that your future is well taken care ofóboth personally and financially."

"Quail Park is the premier senior lifestyle community for Snohomish County – offering only the finest in Retirement Living."

"Discover the difference at Quail Park Memory Care Residences of West Seattle.  A safe and stimulating environment for those with Alzheimer's and Dementia."

"Rosewood Courte is a place where people with Alzheimer's Disease and related disorders live in a supportive environment throughout the aging process."
"The Savoy Lake City is a 62+ age restricted community designed not just to be your new home; it's a place to enjoy our impeccable staff, build new friendships, and enjoy many different opportunities to grow;"  for today, and for the future.
"Village Concepts draws upon more than 40 years of experience and three generations of a proud family tradition providing a personalized touch to more than 1,200 residents in 16 senior communities located near metropolitan centers throughout Puget Sound and Central Washington."

"Village Cove, an expansion of the Hearthstone opened its doors in 2015 offering a modern and independent lifestyle. A retirement living community features luxury one- and two-bedroom apartments situated on Woodlawn Avenue in Green Lake, one of Seattle's most engaging neighborhoods."
Wesley Homes is a not-for-profit organization in the Pacific Northwest offering retirement communities, home health services and rehabilitation in King and Pierce counties for people who love life. Wesley Homes offers a full spectrum of care on campus from independent living to full nursing care and hospice services.
"Whether youíre a senior searching for answers or a caring family member eager to assist, youíll find our unbiased, research-based, thought-provoking resources will guide you toward smart, confident decisions."

Washington SeniorLiving.Org includes every senior living option from independent living to hospice.